5 questions about Online Reputation
How do I measure my reputation?
Reputation is an elusive concept (calm down, we are not going to theorize about it), but in the case of the websites dedicated to travel, has two distinct components that influence consumer behavior:
The opinions and assessments of each individual customer, that derive from their perception of different service attributes.
Aggregate data, such as Tripadvisor ranking or average score on Booking. A way to "sum up" the individual opinions.
The portals have different ways of displaying information. In many cases they do not publish their aggregation algorithm. Also, their geographical spread varies and therefore for each market, portals have different relative importance. On the other hand, different sites have similar but somewhat different questionnaires to assess the different product attributes.
As we see, although some tools provide a "reputation index" supposedly sophisticated and accurate – up to two decimals – reality is much more complicated (and in some cases, non-transparent). When reputation is added in a single aggregate index, information is lost. In HOTELS quality not believe much in aggregate indices (either for the "reputation" or for competitions of "beauty") but specific data in different dimensions that should be improved separately with attention and effort into each one.
But is it as important as they tell us?
Not so much as tell us … but more than we would like. The phenomenon of online reputation is massive because it is based on two human needs: the need to share and the need for security. Both are fed by the portals themselves where opinions are amplified. For the hotel is important to pay attention because the reputation directly influences the decision to book by customers who are actively looking hotel for an upcoming trip. Online reputation influence and importance derives from its proximity to the reservation.
We might, nevertheless, be overestimating the whole matter of online reputation, while we tend to overlook the importance of offline reputation (the good old "word-of-mouth"). Just because we do not see them, it does not mean that these conversations are more frequent and potentially more powerful en our closer circles of relatives and friends. A study by the Keller Fay Group shows that only 7% of "word-of-mouth" recommendations occurs in the public web. Does the word of mouth online faithfully represent what people say offline? The general idea is that online opinions are more biased towards the extreme opinions (positive, and especially negative opinions).
Nobody likes to hear someone speaking negatively about us. And we all like praise. In this sense, public recognition is important for the motivation and pride of the staff and management.
How do my customers use my reputation while shopping and booking?
It is clear that reputation is used while shopping, but as another criteria among others like price, location, photos, features, descriptions and rate conditions for reservation and cancellation. The interesting point is how these criteria are combined within the minds of consumers. HOTELS quality wanted to know the phenomenon in depth and performed a qualitative research using focus groups, where users of these portals described us how they use these sites when shopping and buying travel. Although there are differences between users and between portals, most of the respondents use individual comments and aggregated data associated with two objectives:
discard hotels within the set of hotels under consideration.
to confirm their hotel selection.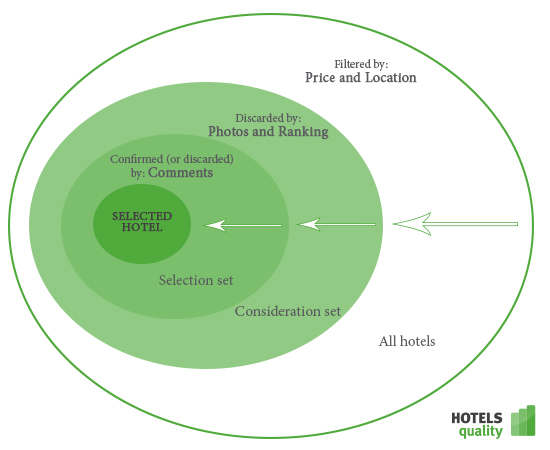 During the hotel shopping process, the client reduces the set of potential hotels in successive stages. In a first step the user gets a fairly large group to choose from the total hotels in the destination. The group of hotels under consideration meet a priori customer requirements of location and price interest. Consideration group normally consists of 5 to 10 hotels, typically sorted by price. In a second stage –selection set– the customers normally discard very low ranked hotels and hotels with low quality pictures or that do not match customers expectations. At this point, options that are inferior in both price and ranking are also discarded. Customers only get to read reviews in detail (between 5 and 10 reviews) for hotels that have passed these filters. These comments help them to confirm the selected option, or dismiss if there is a very negative review, in which case it would analyze in detail the next option from the selection set. In this final stage, the rate conditions (especially cancellation) and some specific features (especially free internet access) have also critical influence.
Full results of the study done in Spain will be posted on this blog soon. There may be differences in behavior with respect to other markets, although we do not think they should be very significant.

What is important for the hotel to achieve in terms of reputation?
Hotels should focus on two objectives:
Acceptable Ranking – A position among the 40% best positioned hotels in our destination and
No Negative Recent Reviews – no negative comments in the top 5 (in the main languages).
As we have seen, ranking makes customers discard a hotel if it is too low, but it does not need to be the best within group of consideration. A small difference (above or below) in the ranking with respect to other hotels in the group is not a decisive factor in the selection. But if you are in the "low" part of the classification and the difference in ranking is very bulky with the other hotels, ranking can have a devastating influence. In that case, we believe that the problem you need to focus on is not really the reputation but simply the service. Our suggestion here is that the hotel manager should stop looking at the Tripadvisor screen and rather observe and fix what is happening in the reception, in the restaurant or on the cleanliness of the rooms.
But here, as in other aspects of management, prevention is better than cure: our direct feedback system, integrated with the PMS, will give the hotel 4 times more data than online reviews about service failures that must be corrected, anticipating what customers will review online. The best reputation management is done BEFORE the review on the web. Not after.
Now, inevitably, it is almost certain that, despite giving good service and have good valuations eventually hotels receive a negative review from time to time. In that case you need to do is try to get other comments as quickly as possible. HOTELS quality helps hotels in these cases, the system prioritize web reviews. In these cases, a response from the hotel manager can help, but the real solution of the reputation problem is "moving" down the bad reviews incorporating other good reviews ASAP.
Hotels are sometimes more obsessed with their reputation that customers themselves. You need to give the relative importance that reputation undoubtedly has well but measure the time and resources allocated to it.
From all the functionalities that RO tools provide, which are really useful?
Probably less than 20% of the functionalities offered by sophisticated RO tools, will give you everything you need if you're a small chain or independent hotel.
The most important: immediate information in the form of alerts. We know that manager time in hospitality, especially in smaller chains and independent hotels, is very volatile: it leaks all over the place. So we offer what we really know that is going to be used: alerts that warn of new comments when they occur, and monitoring aggregated data in each main portal. This service is 80% of the value (and 20% of the price) of a sophisticated tool.
Another issue is the number of sites needed to monitor:if you only monitor the two main sites (Tripadvisor and Booking), you are already watching 80% of your reviews on the network. If you add Expedia and Trivago, you probably reach 95%. The rest is predominantly local sites or online travel agencies. Our tool controls 20 Internet sites, which account for 99% in our markets. We do not believe that an additional 1% justify the effort -and the price- to monitor 200 sites.
We believe that many hotels are over-investing in tools too sophisticated for what is needed and propose a tool that does what you really need.
Monitor the two main reputation parameters and manage your reputation by internal quality indicators: you will save in sites promotions, in overly sophisticated monitoring tools and in prozac :).